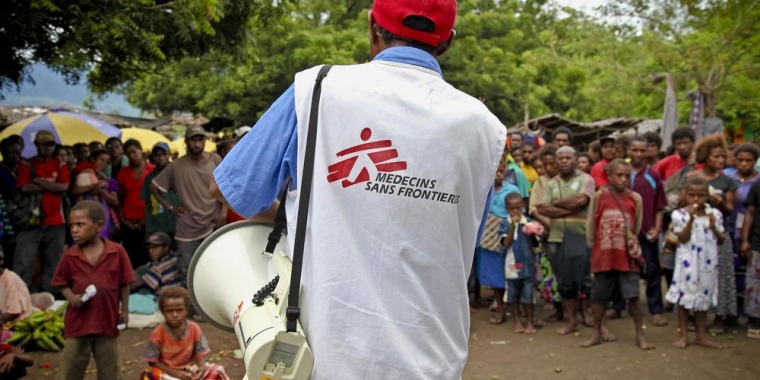 2014 Reports
Where is everyone? Responding to emergencies in the most difficult places.

July 2014

Working at the frontline of delivering humanitarian aid, we at MSF are acutely aware of the limitations and deficiencies of the international aid response to crises. Some good work is taking place, and lives are being saved, but much more can, and should be done, to reach those people most in need. This report diagnoses some of the key issues inherent in the international response to humanitarian crises.

 
South Sudan conflict: violence against healthcare

July 2014

Since armed conflict erupted in South Sudan in December, at least 58 people have been killed on hospital grounds, and hospitals were ransacked or burnt on at least six occasions, MSF said. These figures are not comprehensive, only representing the best of MSF's knowledge about incidents in areas where MSF has activities or conducted medical assessments. 
Between rhetoric and reality: The ongoing struggle to access healthcare in Afghanistan

February 2014

2014 is another crucial year for Afghanistan: after 12 years the US-led NATO military intervention in the country has entered its final phase, and presidential and provincial elections are scheduled for April. As the bulk of international troops withdraw before the end of the year, the world's attention is rapidly turning elsewhere. What interest remains in Afghanistan is firmly fixed on military drawdown, security transition and pre-electoral wrangling. Conspicuously lacking is a focus on the daily reality for Afghans, trapped in an escalating conflict - indeed 2013 was reportedly the second most violent year for civilians since 2001.
2013 Reports
Improving Paediatric TB Care in Tajikistan

November 2013

Tuberculosis (TB) and its drug-resistant forms are a global health threat around the world, and children are particularly vulnerable.  In Tajikistan, MSF has been running a comprehensive paediatric TB and DR-TB programme since 2011, providing family-based, patient-centred care. The programme has three key components: early and appropriate diagnosis; comprehensive treatment; and adherence support for children and their families

Violence, vulnerability and migration: Trapped at the gates of Europe

March 2013

Over the last ten years, as the European Union (EU) has tightened its border controls and increasingly externalised its migration policies, Morocco has changed from being just a transit country for migrants en route to Europe to being both a transit and destination country by default. MSF's experience demonstrates that the longer sub-Saharan migrants stay in Morocco the more vulnerable they become.

 

Syria two years on: the failure of international aid so far

March 2013

After two years of an extremely violent conflict which has resulted in more than 70,000 dead according to the UN, the Syrian people are faced with a humanitarian catastrophe. Despite repeated requests, MSF has not received permission from the government to work in the country, but has been able to open three hospitals in the opposition-held areas in the north where assistance remains well below the level of the needs.

Hear my voice: Somalis on living in a humanitarian crisis

February 2013

Violence, displacement and food shortages are salient features of Somalia's humanitarian landscape. The report draws on the testimonies of more than 800 Somali patients attending MSF medical facilities in Somalia and in Ethiopian refugee camps.

Misery beyond the war zone: Life for Syrian refugees and displaced populations in Lebanon

February 2013

The ongoing crisis in Syria is forcing ever more Syrians to flee their homeland in search of safety.The humanitarian needs of this growing population are immense and continue to grow. Half of the refugees are not receiving required medical care. MSf is calling for immediate steps to be taken to improve shelter and provide aid to new arrivals.

 
2012 reports
DR-TB drugs under the microscope

November 2012

Tuberculosis (TB) is a curable disease that continues to kill nearly 1.4 million people across the globe each year, and is the main cause of death in people living with HIV/AIDS. Yet the response to the epidemic remains inadequate. With 94 percent of patients at risk of MDR-TB (those previously treated) not having access to tests capable of diagnosing MDR-TB, and only 19 percent of people with MDR-TB having been enrolled on treatment in 2011, the full extent of the burden is unknown and undertreated.

Older people in crises

October 2012

There is emerging evidence that the needs of older people in crises have not been properly addressed by emergency aid. There are often very high death rates amongst elderly populations in emergencies, partly due to their inherent vulnerability and partly due to services that inadequately deal with their needs.

Progress under threat

July 2012

While significant gains made in the fight against HIV/AIDS in the past decade are encouraging, countries most affected by the pandemic continue to struggle to place enough people on treatment and to implement the best science and strategies to fight the disease. The current situation in these five affected countries reminds us that the HIV epidemic is still an emergency in many African countries.

Dadaab: Shadows of Lives

June 2012

Dadaab: Shadows of Lives describes the plight of half a million refugees living in increasingly insecure conditions with nowhere else to go, and argues that there is an urgent need to explore alternatives.

Fighting Neglect

May 2012

Charting MSF's 25 years of experience in diagnosing and treating Chagas disease, sleeping sickness, and kala azar in Latin America, Sub-Saharan Africa, South Asia and the Caucasus, the report examines past, present, and future management of the diseases and discusses the access to quality life-saving treatment.

Somebody Help

May 2012

The forgotten population of Jebel Si in North Darfur is left without healthcare as MSF struggles to continue its medical activities in the region

The Right Shot: Extending the reach of affordable and adapted vaccines

May 2012

Lack of information on both the price and the different product characteristics of vaccines has been limiting countries' ability to operate affordable and effective immunisation programmes.

This publication serves as a resource for immunisation stakeholders, such as donors, implementing partners, and developing countries, which are ultimately responsible for their national immunisation programmes.

Overview: MSF activities in Somalia, Kenya and Ethiopia

April 2012

The data presented, though being provisional, account for MSF's medical activities and financial income and expenditures in this region, whereas the narrative sketches how MSF as a medical aid organisation responded to this evolving crisis.

From the ground up: Building a drug-resistant TB programme in Uganda

March 2012

In this report, MSF calls on all key stakeholders to assure quality rapid TB diagnosis, treatment and care, and argues that a scale-up of the decentralised and community-based approach, including access to second-line TB drugs at district level, is the most feasible method of averting Uganada's impending TB crisis.

Briefing paper: Losing Ground

27th March 2012

MSF review on how funding shortfalls and the cancellation of the Global Fund's Round 11 are jeopardising the fight against HIV and TB.

Maternal Death: The Avoidable Crisis

16th March 2012

Around the world women continue to die needless deaths due to medical complications that are preventable or treatable.

This report highlights how limited access to skilled staff, drugs and medical equipment means that a thousand women a day are denied the chance to become mothers.

Lives in the balance: the urgent need for HIV and TB treatment in Myanmar

22nd February 2012

Urgent funding and assistance must be made available by the international donor community to help Myanmar close the devastating gap between people's need and people's access to treatment for HIV and TB.
2011 reports
Central African Republic: State of Silent Crisis

November, 2011

The Central African Republic (CAR) today finds itself in a state of chronic medical emergency. Five separate retrospective mortality surveys, carried out by MSF and other researchers, in prefectures accounting for the majority of the population, show excess mortality above what is considered to be the "emergency threshold."

Treating drug-resistant TB: What does it take?

October 2011

Tuberculosis (TB) is a curable disease that kills nearly 1.45 million people across the globe each year and is the main cause of death for people living with HIV/AIDs. Of the 8.8 million new tuberculosis cases each year, 440,000 are forms of the disease that are multidrug-resistant, meaning they cannot be treated with the two primary antibiotics used to treat TB.
2010 reports
Fighting a dual epidemic: Treating TB in a high HIV prevalence setting in rural Swaziland

18th November, 2010

The southern African kingdom of Swaziland is being devastated by a dual epidemic of tuberculosis (TB) and HIV. MSF highlights measures that urgently need to be expanded nationwide, including improved infection control measures and the implementation of new diagnostic techniques.
 

Giving developing countries the best shot: An overview of vaccine access and R&D

11th April, 2010

MSF and Oxfam show how access to newer vaccines and the development of products for developing countries is faltering and failing to provide life-saving vaccines to children in developing countries.

f

Turkmenistan's Opaque Health System

12th April, 2010

The people of Turkmenistan are being failed by their healthcare system, by their government, and by the international community. The system that is supposed to ensure their health is instead designed to conceal problems. This is not a case of individual practitioners failing to do their jobs but one that is far more systematic.

Sexual violence and migration

25th March, 2010

This briefing paper highlights the problem of sexual violence against Sub-Saharan migrant women, who arrive in Morocco on their way to Europe. Through the data and testimonies gathered in its medical-humanitarian projects, Médecins Sans Frontières hopes to contribute to finding a comprehensive answer to this problem, which increasingly affects more, and younger, women.
2009 reports
HIV/AIDS treatment in developing countries: The battle for long-term survival has just begun

20th July, 2009

Over three million people living with HIV/AIDS in the developing world receive antiretroviral treatment. However, the medicines and diagnostic tools available are inadequate to respond fully to their needs. It is now time to invest in improving the public health approach.

Shattered lives: Immediate medical care for victims of sexual violence

12th July, 2009

Through this report MSF shares its experience in providing medical care, counseling and other forms of support to thousands of victims of sexual violence in many countries around the world. MSF hopes it will inform and inspire health officials, aid workers and others who should be involved in providing such support.

Chagas: It's time to break the silence

7th July, 2009

One hundred years since its discovery, many of those infected with Chagas disease are still unaware that they are sick. For one hundred years, Chagas disease has been a silent illness. The time has come to break the silence.

No refuge, access denied: Medical and humanitarian needs of Zimbabweans in South Africa

2nd June, 2009

This report highlights the plight of Zimbabweans seeking refuge in South Africa, the appalling conditions in which they live and their ongoing lack of adequate protection, shelter and basic services, particularly healthcare, in South Africa.

Hidden behind barbed wire: Plight of Hmong refugees held in detention camp in northern Thailand ignored amid ongoing deportations to Laos

20th May, 2009

Over the past four months, the Thai military has used heightened restrictions and coercive tactics to pressure some 4,700 ethnic Lao Hmong refugees to renounce their claims for protection and accept a forced return to Laos.

Tuberculosis: New faces of an old disease

23rd March, 2009

TB is a deadly killer, responsible for 1.7 million deaths in 2006. The vast majority of cases occur in developing countries. Worse, this 'disease of the past' has returned with new faces that are stretching our capacities to breaking point.

"No food or medicines here until you die": MSF exposes emergency nutritional and medical needs in Guinean prisons

23rd February, 2009

Based on observations from our work in Guéckédou and beyond, MSF concludes that the appalling conditions observed in Guéckédou prison are unfortunately not an isolated case.

Beyond cholera: Zimbabwe's worsening crisis

17th February, 2009

This report discusses the worsening health crisis emerging in Zimbabwe in the wake of the country's political and economic breakdown.

One crisis may hide another: Food price crises masked deadly childhood nutrition

23rd January, 2009

This report looks at what has been achieved since the establishment in April 2008 of a Task Force on the Global Food Security Crisis, composed of the heads of the UN specialised agencies, funds and programmes, the IMF and World Bank.
2008 reports
Starved for attention: Wake up to the crisis of malnutrition

18th December, 2008

Without access to a wide range of essential nutrients, nine children will continue to die every minute of causes related to malnutrition. MSF calls for food aid to change and for a nutrient rich diet to be made available to children to save millions of lives.

A Preventable Fate: The Failure of ART Scale-Up in Myanmar

25th November, 2008

Thousands of people are needlessly dying due to a severe lack of lifesaving HIV/AIDS treatment in Myanmar. Unable to continue shouldering the primary responsibility for responding to one of Asia's worst HIV crises, MSF insists that the government of Myanmar and other international organisations urgently and rapidly scale-up the provision of antiretroviral therapy.

Full Prescription: Better malaria treatment for more people, MSF's experiemce

30th September, 2008

In a new report launched today, MSF said many more lives can be saved if newer effective strategies to tackle malaria are more widely implemented. The report describes the organisation's work in Sierra Leone, Chad and Mali, and shows that unnecessary deaths can be avoided with simple, affordable treatment and diagnostic tools available today.

Running in place: Too many patients still in urgent need of HIV/AIDS treatment

3rd August, 2008

HIV/AIDS treatment and management are essential components of many MSF programs worldwide. Currently MSF provides antiretroviral therapy (ART) for over 140,000 patients in 27 countries, with about 10,000 of those patients being children. In conjunction with this year's International AIDS Conference in Mexico City, this document presents MSF's current "state of play" in providing quality care to people living with HIV/AIDS (PLWHA) in resource-limited settings.

NO CHOICE: Somali and Ethiopian Refugees, Asylum Seekers and Migrants Crossing The Gulf of Aden

26th June, 2008

Thousands of people risk their lives every year to cross the Gulf of Aden to escape from conflict, violence, drought and poverty.