Patient counsellor Zeinab shares her experience of helping vulnerable people living with diabetes to manage their condition, despite the challenges
I have been working with MSF, specifically with diabetic patients, for almost two years now.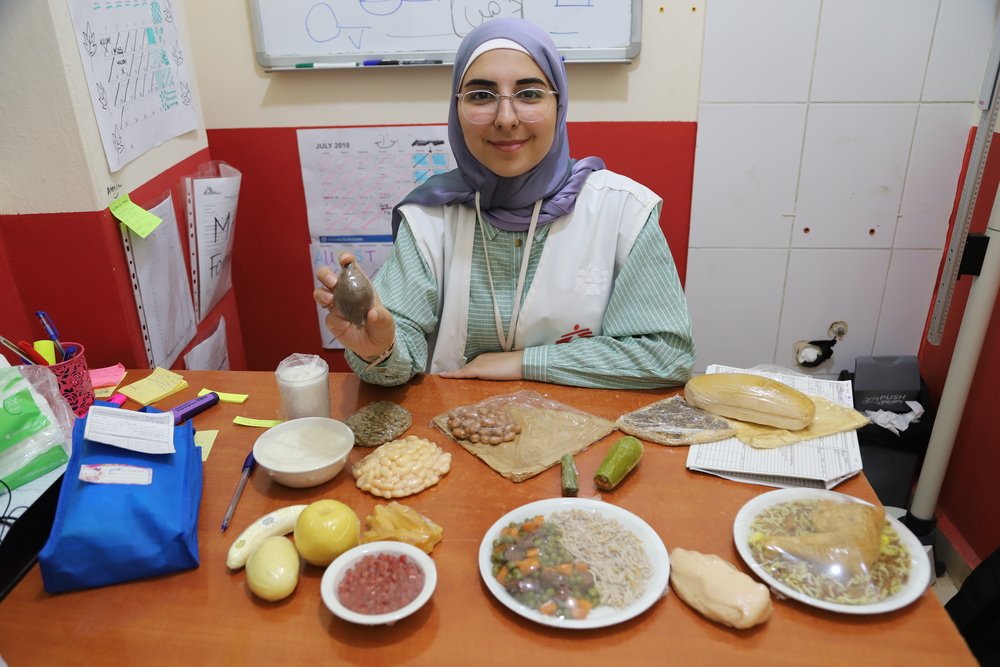 I'm based in Shatila camp, a densely populated refugee camp in Beirut, mainly inhabited by Syrian and Palestinian communities. Our patients are not limited to refugees, however, and also include Lebanese people and migrant workers.
Working with diabetic people is difficult, as they are suffering from a disease which they have no choice but to live with for the rest of their lives. On the other hand, it is truly enlightening to watch people grow as their disease becomes a partner throughout their journey.
Counselling 
I work in patient support and educational counselling. We run sessions which cover different aspects of living with diabetes.
That means we look at the dietary aspects and lifestyle changes that could improve diabetes control. But we also help patients with their understanding of the symptoms, the complications and the nature of the disease.
His eyes lit up as he began to speak about his daughters who, at the time, were still in Syria
The sessions are tailored to fit the lifestyle of each patient, with the aim of not just providing information, but helping them integrate what they've learned in their daily routine. The ultimate goal is to help people live with diabetes.  
Accessing insulin
One of the biggest challenges is helping patients find ways to stick to a healthy lifestyle, medications and healthy eating habits.
Keeping to a regular medication routine is a very significant part of managing diabetes, but, due to the social and economic hardships faced by the vulnerable people we work with, it can be quite difficult for them to access medicines, specifically insulin.
However, as MSF, we provide our diabetic patients with insulin and other medications they need free of charge.
Balancing more than diet
Behavioural changes (like making healthier food choices) can also feel difficult to achieve when patients face so many daily stressors. People here have been living through the financial and economic crisis, social unrests and insecurity, the frail healthcare system, and much more.
Diabetic patients are, for instance, recommended to follow a well-balanced diet containing carbohydrates, protein and fats.
Unfortunately, due to the current price inflation in Lebanon, proteins and healthy fat sources, such as poultry and nuts, have become increasingly out of reach for many. Carbohydrates, which are usually cheaper, have become thus a bigger portion of people's diet, resulting in increased blood sugar level and elevated risk of diabetic complications.
In light of this, we are constantly working on finding alternatives for these absent dietary components by suggesting affordable substitutes or recommending a more active lifestyle.
Struggling with treatment
It is often difficult to motivate patients to stick to their treatment.
I remember a patient that came regularly to the clinic several months ago with uncontrolled blood glucose. He had already followed several diabetic educational sessions but was still struggling to stick with his treatment.
Many patients find joy and strength in the little things to pursue their lives. They hold on and keep fighting to live; they rise from the ashes.
So, during one session we had together, I asked him about his motivation.
His eyes lit up as he began to speak about his daughters who, at the time, were still in Syria. He told me that he was rarely asked about how he feels or what he loves. And so, from there, we picked up and we began to discuss how he could improve his blood sugar level.
Often, people feel the need to be heard. They also need to have a motivation that will push them forward. For this man, thinking of his two daughters gave him the motivation to improve his blood sugar.
Understanding our patients is in no way less significant than giving them information about their disease.
Support and influence
I may be unable to change the settings in which the patients are living in, but I can definitely influence their mindset so they can better cope with their diabetes.
Support groups for diabetic patients have been observed as highly beneficial because they contribute to create a small social network of peers. During the past year, we have designed and held several support groups for diabetic adolescent girls and it was a big success as many were able to form friendships and improve their blood sugar.
The past two years have been really rewarding. I have learnt so much from patients' daily struggles with life and their lifelong partner, diabetes.
Seeing them carry so much with so little is sorrowful but nonetheless enlightening. Many patients find joy and strength in the little things to pursue their lives. They hold on and keep fighting to live; they rise from the ashes.
That makes me realise how resilient we can be, and it gives me more power in myself to overcome mishaps and obstacles.