In the second half of 2019, renewed conflict in northeast and northwest Syria once again led to bloodshed, as people were killed and wounded. Thousands of people driven from their homes. Syria remains the country with the biggest population of internally displaced people (IDPs) in the world.

We are concerned about the fate of Syrian people, with the deterioration of the situation in northern Syria and the continuation of military operations.
Northeast Syria
In northeastern Syria, in the governorates of Raqqa and Hassekeh, the situation is unpredictable and fast-changing.
The Turkish military operation, launched in October 2019, and the numerous groups fighting on different sides of the conflict continue to make it difficult for MSF to negotiate safe access to provide medical humanitarian assistance to people in distress. In many areas, it is currently not possible for us to guarantee the safety of Syrian and international staff.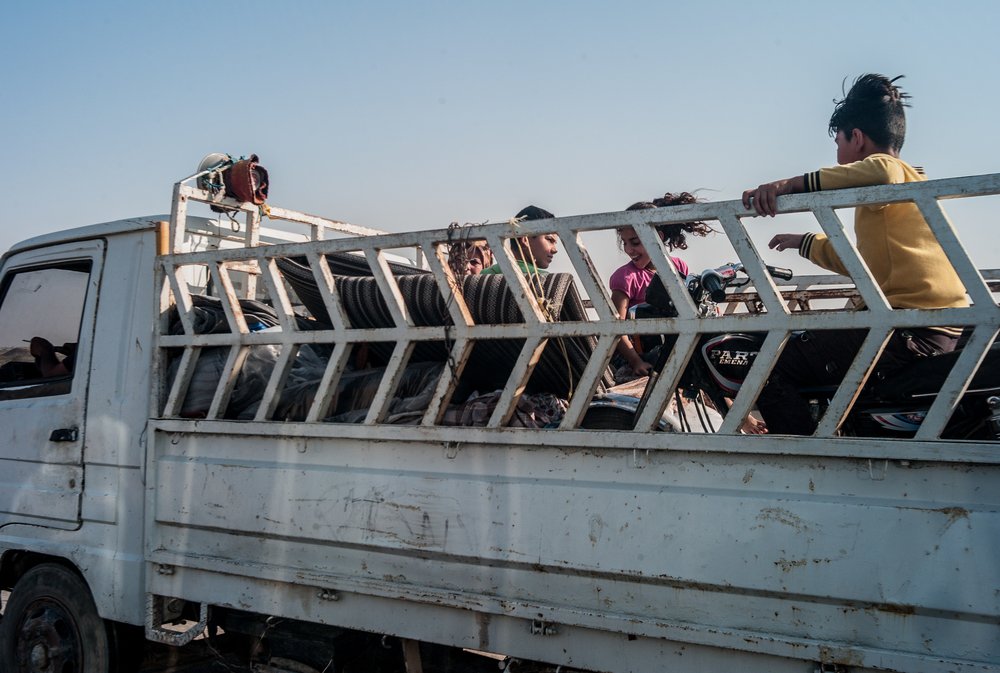 The military operation by the Turkish army is concentrated in the border area between Turkey and Syria. Our teams have witnessed airstrikes and shelling in both directions, and continue to hear reports of fights and clashes on the ground.  
MSF is extremely worried about the safety of our Syrian colleagues and their families who remain in this part of the country in these troubled times. We continue to support our Syrian colleagues remotely where we can and are continually exploring all possible options to overcome the constraints and deliver assistance.
Displaced people in camps
People living in camps and informal settlements across northeastern Syria were already extremely vulnerable before the military operation. They do not have adequate access to hygiene and sanitation and live in overcrowded and unsafe conditions, with low vaccination coverage.
There is an urgent need to increase assistance to most internally displaced people (IDP) camps across the region, where the people are often almost completely dependent on humanitarian assistance.
This includes Al-Hol camp, where the camp's population is almost entirely made up of women and children – the majority displaced from the Islamic State-group's last stronghold and includes 10,000 'foreigners' (those who are neither Syrian nor Iraqi nationals) who are held in a separate annex.
The situation in the camp is shameful. There is an urgent need for effective water and sanitation infrastructure, to ensure safe drinking water and to prevent the spread of waterborne diseases among a vulnerable population.
Access to adequate humanitarian assistance is urgently needed in all camps across the region. The border region between Syria and Turkey remains an active conflict zone and people continue to try to flee from the violence and instability.
Given the current situation, it is highly unlikely that people would want to return voluntarily, a minimum condition for any repatriation of displaced people to their country of origin.
MSF response
We continue to provide support for medical, water and sanitation activities in northeast Syria, mainly through remote management from Erbil in Iraq. These include the emergency room and outpatient departments in Raqqa National hospital in Raqqa city, and water trucking and latrine cleaning in Al-Hol and Twina camps, west of Hassakeh town.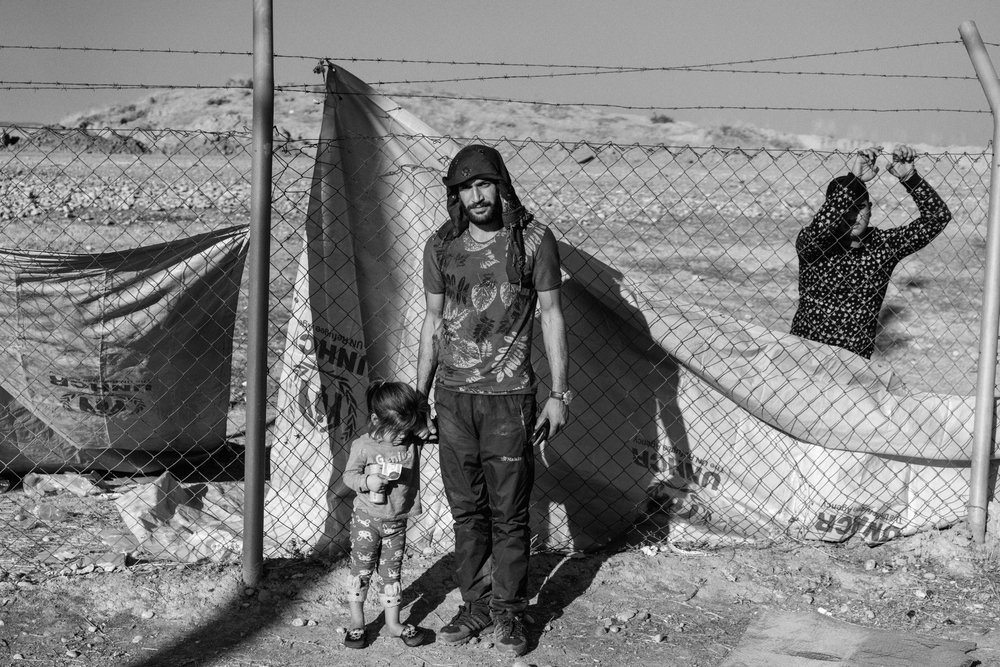 Moreover, our teams provide basic healthcare and mental healthcare and health promotion in two camps and in Tal Kochar in Hassakeh Governorate. We donate medical materials to several hospitals around Kobane/Ain Al-Arab and Qamishli.
MSF is working or providing support in the following areas:
Tal Abyad hospital – Raqqa Governorate. Medical activities and support to the hospital are currently suspended due to the military operation that started in October 2019.
 
Ain Issa camp – Raqqa Governorate: Teams had been distributing non-food items such as soap, toothpaste, etc to displaced people in the camp, and providing vaccinations, basic healthcare and mental health services. The camp is currently empty as most people fled the due to the fighting and insecurity.  
 
Ain Issa hospital – Raqqa Governorate. We support the local health authorities' hospital in with medical donations.
 
Raqqa – Raqqa Governorate. We provide medical care through basic healthcare clinics, including in Al-Mishlab and Raqqa City. We also run an emergency room and an outpatient department in Raqqa and support Raqqa National hospital.
 
Al-Hol Camp – Hassakeh Governorate. We currently provide water and sanitation facilities in the camp.  
 
Kobane/Ain Al-Arab – Aleppo Governorate. We support Kobane Maternity hospital.
 
Tal Kochar – Hassakeh Governorate. Our team provides basic and mental healthcare, health promotion, and treats non-communicable diseases through a clinic. We also provide basic healthcare to displaced people living in Al-Roj and Newroz camp through mobile clinics.
 
Tal Tamer – Hassakeh Governorate. We distribute non-food relief items to displaced people in Tal Tamer. Most of the people have fled the border city Ras Al-Ain and are being hosted in schools, with families, relatives and friends.
Northwest Syria
Over the past years, there have been multiple phases of military offensives in northwest Syria. 2019 was no different, with a significant offensive by the Government of Syria and its allies launched at the end of April. Since then, bombing and shelling has led to mass displacement and to increasing numbers of casualties, with – according to several reports – hundreds of deaths and thousands of injuries.  
The offensive in northwest Syria has caused mass displacement, adding to previous displacements of more than a million people to and within northwest Syria. Most of the newly-displaced people have headed for densely-populated areas and are now in need of food, water and medical care.
People have few remaining options to flee to, as most areas that are considered to be relatively safe are overcrowded and the available humanitarian assistance is already overstretched.
Multiple casualty incidents and infrastructure hit
On multiple occasions since the start of the offensive, most notably in July/August and since late October, medical teams at MSF-supported hospitals have received mass-casualty influxes, with 10 or more wounded people arriving at once.
For example, in early August, an MSF-supported hospital received over 35 people wounded from airstrikes in the space of 48 hours. In the same week, a different MSF-supported facility treated 50 casualties.  More recently, on 31 October, a massive explosion in Darkoush town resulted in 12 casualties being rushed for urgent treatment to a nearby hospital supported by MSF.

Civilian infrastructure hasn't been spared in this conflict. Medical facilities, schools, markets and internally displaced people camps have been hit and damaged since the beginning of the military offensive. Some MSF-supported hospitals have been damaged by bombing, while other MSF-supported facilities have partially interrupted their services on multiple occasions in fear of being hit.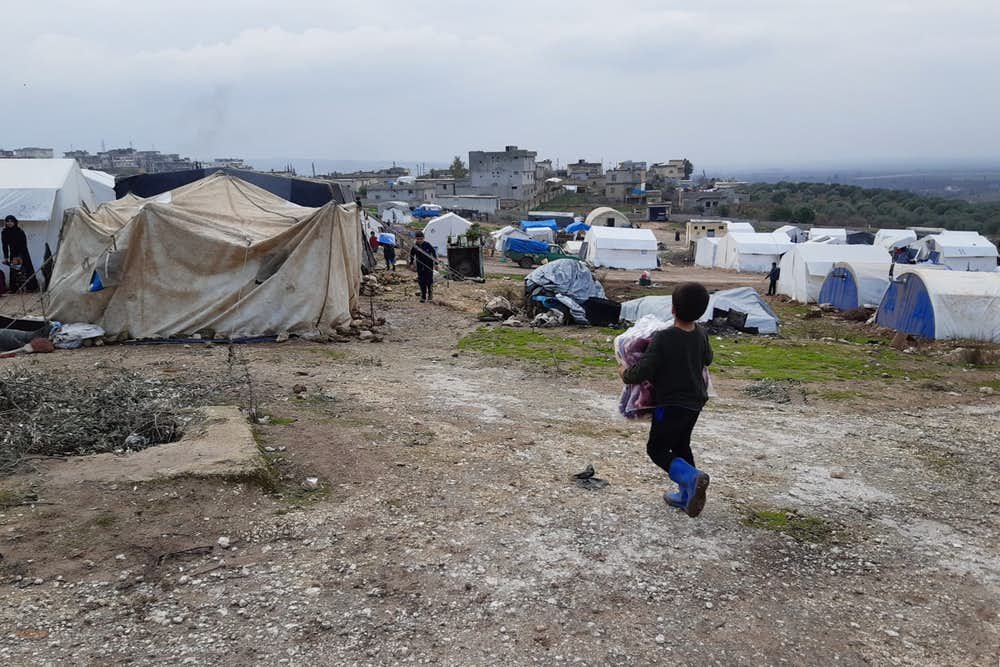 MSF response
Across northwest Syria, in Idlib and Aleppo governorates, MSF teams provide maternal healthcare, general healthcare and treatment for non-communicable diseases through mobile clinics. They distribute relief items such as hygiene kits, blankets, mattresses, kitchen utensils and improve water and sanitation systems.

They also support vaccination activities in two vaccination centres and one hospital. We also run a specialised burns unit that provides surgery, skin grafts, dressings, physiotherapy and psychological support, as well as remote support to primary and secondary healthcare in several hospitals and clinics around Idlib and Aleppo Governorates, including co-management partnerships with three hospitals.
MSF is working or providing support in the following areas:
Idlib Governorate. Co-management partnership with three hospitals, including providing drugs and other medical supplies, and covering the running costs such as staff salaries.
 
Atmeh – Idlib Governorate. MSF runs a specialised burns unit, with an operation theatre and an emergency room.
 
Idlib and West Aleppo countryside. We are providing donations and technical support to Al-Kindy maternity and to Al-Salam basic healthcare clinic in Idlib, as well as to Al-Eman maternity and Al-Khawary basic healthcare clinic in West Aleppo.
 
Azaz – Aleppo Governorate. We provide healthcare for local and displaced people at Al-Salama hospital. We are also supporting the Azaz Reception Centre for displaced people with mobile clinics and three other camps sites with a focus on mental and women's health.
 
Idlib Governorate. We regularly run other mobile clinics to various displaced people settlements providing basic healthcare, maternal healthcare and mental healthcare services.  
 
Displaced people settlements – Idlib Governorate. A logistics team regularly provides water and sanitation engineering support, such as building blocks of latrines, as well as conducting occasional distributions of survival essentials when needed.
 
Idlib governorate – Kidney transplant patients. Assuring continued care for around 100 patients who had undergone kidney transplant operations and now need continued access to their medicines to stay alive.
 
Afrin Governorate – MSF is providing donations and technical support to three health centres.  
For security reasons, the three hospitals' exact locations cannot be disclosed.